Return to Naval Historical Center home page.

Return to Online Library listing

DEPARTMENT OF THE NAVY -- NAVAL HISTORICAL CENTER
805 KIDDER BREESE SE -- WASHINGTON NAVY YARD
WASHINGTON DC 20374-5060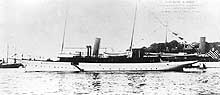 Online Library of Selected Images:
-- CIVILIAN SHIPS --
Zara (Steam Yacht, 1891). Previously named Solgar.
Was USS Zara (SP-133) in 1917-1919
Zara, a 184 gross ton steam yacht, was built at Paisley, Scotland, in 1891. She was purchased by the Navy in April 1917 and placed in commission in the next month as USS Zara (SP-133). After not quite a year's service in the Long Island Sound area, she was decommissioned in April 1918 and stricken from the Navy List soon thereafter. However, Zara remained in use as a guard vessel in western Long Island Sound and was not sold until September 1919.
This page features our only view of the yacht Zara, which served as USS Zara during World War I.
Click on the small photograph to prompt a larger view of the same image.
Photo #: NH 102048

Zara (U.S. Steam Yacht, 1891)

Photographed prior to her World War I Naval service. She had previously been named Solgar.
The original print bears the name and address of the New York yacht brokers Gielow & Orr.
The Navy placed this yacht in commission on 22 May 1917 as USS Zara (SP-133). She was decommissioned on 13 April 1918 and stricken on 1 May 1918. However, Zara was retained for use as a coast guard boat and was not sold until 10 September 1919.

The original print is in National Archives' Record Group 19-LCM.

U.S. Naval Historical Center Photograph.

Online Image: 58KB; 740 x 345 pixels

Return to Naval Historical Center home page.
Page made 9 April 2002