Return to Naval Historical Center home page.

Return to Online Library listing

DEPARTMENT OF THE NAVY -- NAVAL HISTORICAL CENTER
805 KIDDER BREESE SE -- WASHINGTON NAVY YARD
WASHINGTON DC 20374-5060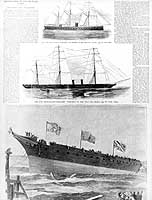 Online Library of Selected Images:
-- SHIPS of the FRENCH NAVY --
Gloire (Battleship, 1860-1879)
Gloire, a 5630-ton broadside ironclad battleship, was built at Toulon, France. When completed in August 1860 as the World's first seagoing armored warship, she seemingly rendered obsolete the unarmored ships-of-the-line that had previously dominated seapower among the larger Western nations. Despite her revolutionary beginnings, Gloire's active service was relatively brief, as she was soon outclassed by newer ironclads and her wooden hull deteriorated relatively swiftly. She was removed from the French Navy's warship list in 1879.
This page features our only view of the French battleship Gloire (1860-1879).
Click on the small photograph to prompt a larger view of the same image.
Photo #: NH 59569

"Revolution in Naval Warfare. -- Shot-Proof Iron Steamships."

Article published in "Harper's Weekly", 9 February 1861. It features a discussion (by a British author) of the new ironclads Gloire (French) and Warrior (British), with line engravings of both ships (in the same scale) and a view of Warrior's launching at Blackwall, England, on 29 December 1860.

U.S. Naval Historical Center Photograph.

Online Image: 292KB; 910 x 1225 pixels

Return to Naval Historical Center home page.
Page made 12 July 2001