Return to Naval Historical Center home page.

Return to Online Library listing

DEPARTMENT OF THE NAVY -- NAVAL HISTORICAL CENTER
805 KIDDER BREESE SE -- WASHINGTON NAVY YARD
WASHINGTON DC 20374-5060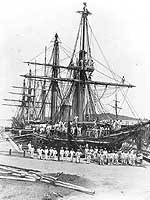 Online Library of Selected Images:
-- SHIPS of the GERMAN NAVY --
SMS Carola (Corvette, later Training Ship, 1881-1906)
Carola, first of a class of four 2424-ton corvettes, was built at Stettin, Germany and commissioned in September 1881. She served overseas during the rest of the 1880s and was rerated as a gunnery training ship in 1893. Carola was sold in February 1906 and soon scrapped.
This page features the only view we have related to the German corvette and training ship Carola.
Click on the small photograph to prompt a larger view of the same image.
Photo #: NH 88777

SMS Olga (German Corvette, 1881)
and
SMS Carola (German Corvette, 1881)

In the Albert drydock, Tanjong Tagar, Singapore, during the 1880s.

The original print was mounted in an Office of Naval Intelligence register.

U.S. Naval Historical Center Photograph.

Online Image: 125KB; 555 x 765 pixels

Return to Naval Historical Center home page.
Page made 23 March 2002