Return to Naval Historical Center home page.

Return to Online Library listing

DEPARTMENT OF THE NAVY -- NAVAL HISTORICAL CENTER
805 KIDDER BREESE SE -- WASHINGTON NAVY YARD
WASHINGTON DC 20374-5060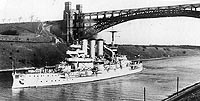 Online Library of Selected Images:
-- SHIPS of the GERMAN NAVY --
Hessen (Battleship, later Target Ship, 1905-1945)
Hessen, a 13,208-ton Braunschweig class battleship, was built at Kiel, Germany. Commissioned in September 1905, she served the Imperial German Navy in a combatant capacity until 1916, then as an auxiliary ship for the remainder of the First World War and beyond. As one of the elderly armored warships that Germany was allowed to retain for coastal defense service in the post-World War I era, Hessen was somewhat modernized in the mid-1920s and returned to battleship status. She served in this role until the middle 1930s.
In 1935-37, Hessen was extensively reconstructed at Wilhelmshaven for further service as a radio-controlled target ship. With a longer hull and more powerful engines, but no armament, she was thereafter somewhat lighter and faster than as a battleship. The ship was employed by the German Navy through the Second World War and was surrendered to the USSR in 1946. Renamed Tsel, she subsequently served in the Soviet Navy.
This page features our only views of the German battleship and target ship Hessen.
Click on the small photograph to prompt a larger view of the same image.
Photo #: NH 88049

Hessen (German battleship, 1905)

Passing under the Levensau Bridge while transiting the Kiel Canal, circa 1925-1934.

U.S. Naval Historical Center Photograph.

Online Image: 104KB; 740 x 400 pixels

Photo #: NH 82069

Schleswig-Holstein (German battleship, 1908), in the foreground

Photographed circa 1930.
Battleship Schlesien is at left, and battleship Hessen is in the right background.

U.S. Naval Historical Center Photograph.

Online Image: 115KB; 740 x 615 pixels

Photo #: NH 101568

Hessen (German target ship, 1903)

Photographed from on board the battleship Scharnhorst during January 1940, while she was acting as an icebreaker in the western Baltic Sea. The heavy ice there forced cancellation of planned target practice by the Scharnhorst.

Copied from the contemporary German photo album "Meine Kriegserinnerungen auf Schlachtschiff Scharnhorst", page 9.

U.S. Naval Historical Center Photograph.

Online Image: 57KB; 740 x 525 pixels

Return to Naval Historical Center home page.
Page made 15 March 2001