Return to Naval Historical Center home page.

Return to Online Library listing

DEPARTMENT OF THE NAVY -- NAVAL HISTORICAL CENTER
805 KIDDER BREESE SE -- WASHINGTON NAVY YARD
WASHINGTON DC 20374-5060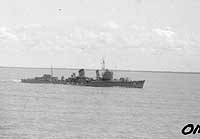 Online Library of Selected Images:
-- JAPANESE NAVY SHIPS --
Akatsuki (Destroyer, 1932-1942)
Akatsuki, name ship of a class of four 1680-ton "special type" destroyers, was built at Sasebo, Japan. She entered service at the end of November 1932 and served for the rest of the decade in Japanese and Chinese waters, taking part in combat operations during the Sino-Japanese war that began in August 1937. Like others of her type, she was modified during the middle 1930s, both to correct design deficiencies and to enhance combat capabilities.
During the great Pacific war with the United States and its allies that began in December 1941, Akatsuki participated in operations against the Netherlands East Indies, including the invasion of western Java in late February 1942. In early June she took part in the capture of Kiska Island, in the Aleutians. A few months later, she became involved in the Guadalcanal Campaign and on 25 October 1942 participated in a daring daylight surface strike into "Iron Bottom Sound", the hotly-contested body of water between Guadalcanal and Tulagi. She and her consorts sank the U.S. Navy fleet tug Seminole and the patrol craft YP-284 and damaged the fast minesweeper Zane. In return, Akatsuki was damaged by coastal artillery.
Three weeks later, Akatsuki returned to Iron Bottom Sound as part of a powerful bombardment force built around the battleships Hiei and Kirishima. On the night of 13 November 1942, this unit encountered a task force of U.S. Navy destroyers and cruisers. Operating on the right flank of the Japanese battleships, Akatsuki was heavily hit by American gunfire and sank early in the action, with the loss of all but a few of her crewmen.
This page features our only image of the Japanese destroyer Akatsuki.
Click on the small photograph to prompt a larger view of the same image.
Photo #: NH 75491 (cropped)

Akatsuki (Japanese Destroyer, 1932)

Steaming in the Yangtse River, China, while convoying transports in August 1937.
The image is cropped from Photo # NH 75491.

The original print was received from the Office of Naval Intelligence, circa the early 1940s.

U.S. Naval Historical Center Photograph.

Online Image: 49KB; 740 x 540 pixels

Return to Naval Historical Center home page.
Page made 28 April 2002