Return to Naval Historical Center home page.

Return to Online Library listing

DEPARTMENT OF THE NAVY -- NAVAL HISTORICAL CENTER
901 M STREET SE -- WASHINGTON NAVY YARD
WASHINGTON DC 20374-5060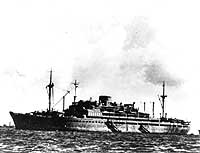 Online Library of Selected Images:
-- JAPANESE NAVY SHIPS --
Brazil Maru (Transport, 1941-1942)
Brazil Maru, a 12,752-ton troop transport, was completed in 1939 as a civilian passenger liner. Requisitioned in 1941, she a served as a transport during the first months of the Pacific war. Brazil Maru was torpedoed and sunk by USS Greenling (SS-213) near Truk on 5 August 1942.
This page features a view of a ship that may be Brazil Maru.
If you want higher resolution reproductions than the Online Library's digital images, see: "How to Obtain Photographic Reproductions."
Click on the small photograph to prompt a larger view of the same image.
Photo #: USMC 515537

Argentina Maru
or
Brazil Maru
(Japanese Troop Transports, 1941-42)

Photograph of one of these two ships, reportedly taken circa May-June 1942, at the time of the Midway operation.

U.S. Marine Corps Photograph.

Online Image: 65KB; 740 x 590 pixels

Reproductions of this image may also be available through the National Archives photographic reproduction system as Photo Number 127-G-515537.

Return to Naval Historical Center home page.
24 March 1999