Return to Naval Historical Center home page.

Return to Online Library listing

DEPARTMENT OF THE NAVY -- NAVAL HISTORICAL CENTER
805 KIDDER BREESE SE -- WASHINGTON NAVY YARD
WASHINGTON DC 20374-5060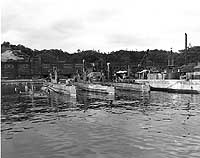 Online Library of Selected Images:
-- JAPANESE NAVY SHIPS --
Ha-104 (Transport Submarine, 1944-1946)
Ha-104, a 370-ton "SS" type small transport submarine, was built at Senshu, Japan. Completed in December 1944, she was surrendered in September 1945 and scrapped in about 1946.
This page features our only image of the Japanese submarine Ha-104.
Click on the small photograph to prompt a larger view of the same image.
Photo #: 80-G-339846

HA-102, HA-104 and HA-101
(Japanese submarines, 1944), listed from left to right,

Tied up at the Yokosuka Naval Base, Japan, 7 September 1945. Five "Kairyu" type midget submarines are moored outboard of the HA-102, at left.
Taken by Photographer's Mate Ehlers.

Official U.S. Navy Photograph, now in the collections of the National Archives.

Online Image: 97KB; 740 x 610 pixels

Reproductions of this image may also be available through the National Archives photographic reproduction system.

Return to Naval Historical Center home page.
20 April 2000