Return to Naval Historical Center home page.

Return to Online Library listing

DEPARTMENT OF THE NAVY -- NAVAL HISTORICAL CENTER
805 KIDDER BREESE SE -- WASHINGTON NAVY YARD
WASHINGTON DC 20374-5060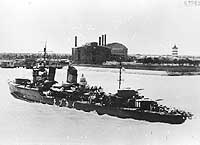 Online Library of Selected Images:
-- JAPANESE NAVY SHIPS --
Ikazuchi (Destroyer, 1932-1944)
Ikazuchi, a 1680-ton Akatsuki class destroyer built at Uraga, Japan, was completed in August 1932. She took part in operations during the war with China that began in mid-1937 and was active through the first two and a half years of the Pacific War. On 8 December 1941, as that war began, she was one of the Japanese warships that attacked Hong Kong, sinking two British gunboats. During the first months of 1942, Ikazuchi participated in the East Indies campaign, including the invasion of Java and the battle on 1 March 1942 in which the British cruiser Exeter, destroyer Encounter and U.S. destroyer Pope were sunk.
In early June 1942 Ikazuchi took part in operations in the north Pacific that resulted in the capture of Attu and Kiska islands. Later in the year, she went south to join the protracted campaign to retake Guadalcanal and, on 25 October she and two other destroyers conducted a daylight raid into the waters off Guadalcanal. In the resulting action, the U.S. Navy fast minesweeper Zane was damaged and fleet tug Seminole and patrol craft YP-284 were sunk before the Japanese ships were driven off by U.S. Marine coastal artillery. Ikazuchi also particpated in the first night action of the Naval Battle of Guadalcanal, on 13 November 1942. Stationed on the right flank of the battleships Hiei and Kirishima with two other destroyers, she engaged several U.S. warships, among them the cruiser Atlanta, and received damage to her forward gun mount.
Ikazuchi returned to the north Pacific in 1943, and again engaged U.S. Navy ships in the Battle of the Komandorski Islands on 26 March. Later, she operated in the central Pacific. On 13 April 1944, while patrolling between Guam and the Caroline Islands, Ikazuchi was torpedoed and sunk by the U.S. submarine Harder.
This page features our only image of the Japanese destroyer Ikazuchi (1932-1944).
Click on the small photograph to prompt a larger view of the same image.
Photo #: NH 74173

Ikazuchi (Japanese Destroyer, 1932)

Underway in Chinese waters, circa 1938.

The original photograph was received from the Office of Naval Intelligence.

U.S. Naval Historical Center Photograph.

Online Image: 65KB; 740 x 560 pixels

Return to Naval Historical Center home page.
Page made 19 May 2002