Return to Naval Historical Center home page.

Return to Online Library listing

DEPARTMENT OF THE NAVY -- NAVAL HISTORICAL CENTER
805 KIDDER BREESE SE -- WASHINGTON NAVY YARD
WASHINGTON DC 20374-5060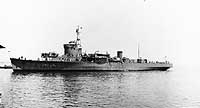 Online Library of Selected Images:
-- JAPANESE NAVY SHIPS --
Itsukushima (Minelayer/Netlayer, 1929-1945)
Itsukushima, a 1970-ton (standard displacement) minelayer, was built at Tokyo, Japan. Also fitted for laying defensive nets, she was completed in December 1929. Among her Pacific War activities were participation in the invasion of the Philippines in December 1941 and the conquest of the Netherlands East Indies in January-February 1942. While in the Java Sea on 7 October 1944 Itsukushima was sunk by the Dutch submarine Zwaardvisch.
This page features our only image of the Japanese minelayer/netlayer Itsukushima.
Click on the small photograph to prompt a larger view of the same image.
Photo #: NH 98366

Itsukushima
(Japanese Minelayer/Netlayer, 1929-1944)

Photographed circa 1935.

U.S. Naval Historical Center Photograph.

Online Image: 49KB; 740 x 425 pixels

Return to Naval Historical Center home page.
Page made 22 March 2003