Return to Naval Historical Center home page.

Return to Online Library listing

DEPARTMENT OF THE NAVY -- NAVAL HISTORICAL CENTER
901 M STREET SE -- WASHINGTON NAVY YARD
WASHINGTON DC 20374-5060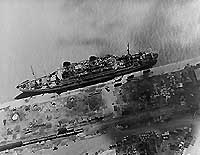 Online Library of Selected Images:
-- JAPANESE NAVY SHIPS --
Takasago Maru (Hospital Ship, 1941-1947).
Takasago Maru, a 9347-ton hospital ship, was built as a civilian passenger liner in 1936. Taken over by the Japanese Navy in 1941, she was converted to a hospital ship and employed in that role during World War II. After August 1945, she operated with the Japanese Repatriation Service until 1947, when she was returned to her owners.
This page features the only view we have of Takasago Maru.
If you want higher resolution reproductions than the Online Library's digital images, see: "How to Obtain Photographic Reproductions."
Click on the small photograph to prompt a larger view of the same image.
Photo #: 80-G-490422

Takasago Maru
(Japanese Hospital Ship, formerly Passenger Liner, 1936)

Tied up at Tokyo, Japan, 27 August 1945. Photographed from a U.S. Navy aircraft.

Official U.S. Navy Photograph, now in the collections of the National Archives.

Online Image: 85KB; 740 x 600 pixels

Reproductions of this image may also be available through the National Archives photographic reproduction system.

Return to Naval Historical Center home page.
25 February 1999