Return to Naval Historical Center home page.

Return to Online Library listing

DEPARTMENT OF THE NAVY -- NAVAL HISTORICAL CENTER
805 KIDDER BREESE SE -- WASHINGTON NAVY YARD
WASHINGTON DC 20374-5060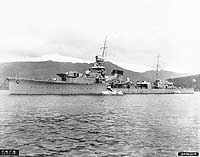 Online Library of Selected Images:
-- JAPANESE NAVY SHIPS --
Yubari (Light Cruiser, 1923-1944)
Yubari, a 3141-ton light cruiser of innovative design, was built at Sasebo, Japan. Commissioned at the end of July 1923, she was generally employed as flagship for destroyer squadrons. In the years before World War II, she made frequent cruises to China in that capacity and on independent missions or in company with other light cruisers. In 1925, she steamed through the western Pacific and visited Australia. Yubari saw combat action against Chinese shore batteries in 1932. She visited Java in 1937 and patrolled off China after war began with that nation later in the year. Assigned to the central Pacific in 1941 as a destroyer squadron flagship, she was there when Japan attacked the United States in December.
Yubari's initial World War II combat operation was the attempt to capture Wake on 10-11 December 1941. Though that attack was repulsed, she participated in the capture of the island base later in the month. During January-March 1942, Yubari helped seize Allied positions in the New Britain and New Guinea area, but was damaged by U.S. carrier plane attacks during the Lae-Salamaua operation on 10 March. She was repaired in time to serve as flagship of the Port Moresby Attack Force during the Battle of the Coral Sea in May and later supported the Japanese buildup on Guadalcanal. When the Allies landed on Guadalcanal and Tulagi in August, Yubari was sent south with other cruisers to counter-attack, an assignment that led to victory against U.S. and Australian warships in the 9 August 1942 Battle of Savo Island. Later in August, she covered landings at Nauru and Ocean Islands and spent the following three months on escort and patrol duties.
After overhaul, the cruiser returned to the south Pacific in April 1943. Yubari led destroyers in a bombardment of the U.S. invasion beaches at Rendova in early July, and was damaged by a mine on the 5th of that month, requiring her to return to Japan for repairs. She was back in the south Pacific combat zone from October to December 1943, and was slightly damaged by U.S. carrier planes off Rabaul on 11 November. Yubari was refitted in December 1943 - March 1944, receiving enhanced anti-aircraft firepower at the expense of two of her heavier guns, and was then sent to the central Pacific. After completing a transport mission to Sonsorol Island on 27 April 1944, she was hit by a torpedo from the U.S. submarine Bluegill (SS-242). Efforts to control progressive flooding were unsuccessful, and Yubari sank the following morning.
This page features our only images of the Japanese light cruiser Yubari.
Click on the small photograph to prompt a larger view of the same image.
Photo #: 19-N-9957

Yubari (Japanese Light Cruiser, 1923)

Photograph apparently taken on 15 November 1924. Inscription in lower left reads: "Warship Yubari Taisho 13-11-15".

Photograph from the Bureau of Ships Collection in the U.S. National Archives.

Online Image: 79KB; 740 x 610 pixels

Reproductions of this image may also be available through the National Archives photographic reproduction system.

Photo #: NH 90784

Yubari (Japanese Light Cruiser, 1923)

Photographed prior to World War II.
The ship in the right distance is probably the Japanese Navy's icebreaker Otomari.

U.S. Naval Historical Center Photograph.

Online Image: 74KB; 740 x 590 pixels

Photo #: NH 82098

Yubari (Japanese Light Cruiser, 1923)

Off Shanghai, China, in April 1937.
Photograph was sent to the Navy Department with a Commander Asiatic Fleet (CinCAF) report.
Note laundry hung over the ship's lifelines. The building in the left distance is the Broadway Mansion hotel.

The original print came from Rear Admiral Samuel Eliot Morison's World War II project working files.

U.S. Naval Historical Center Photograph.

Online Image: 57KB; 740 x 620 pixels

Photo #: NH 86309

Yubari (Japanese Light Cruiser, 1923)

Outboard profile and deck plan drawings of the ship after 1943-44 modifications.
These drawings, which may have been prepared for wartime ship identification purposes, are inaccurate in some details, most notably in placing a triple 25mm machine gun mount forward instead of the 12cm high-angle gun actually fitted there.

U.S. Naval Historical Center Photograph.

Online Image: 46KB; 740 x 425 pixels

Return to Naval Historical Center home page.
Page made 17 November 2001