Return to Naval Historical Center home page.

Return to Online Library listing

DEPARTMENT OF THE NAVY -- NAVAL HISTORICAL CENTER
901 M STREET SE -- WASHINGTON NAVY YARD
WASHINGTON DC 20374-5060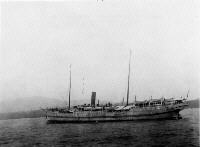 Online Library of Selected Images:
-- SPANISH NAVY SHIPS --
Alicante (Hospital Ship, 1898)
Alicante, a 4031-ton hospital ship, was built at Dumbarton, Scotland, in 1889 as the merchant ship Pegu. Purchased by a Spanish firm in 1896, she was renamed Alicante. During the Spanish-American War, she was used as a hospital ship. Returned to commercial service after 1898 and reduced to a coal hulk in 1931, she was bombed and sunk at Barcelona in 1939. Her remains were raised and broken up the following year.

This page features an 1898 view of Alicante.

If higher resolution reproductions than these digital images are desired, see "How to Obtain Photographic Reproductions."

Click on the small photograph to prompt a larger view of the same image.
Photo #: NH 46856

Alicante
(Spanish Hospital Ship, 1898)

Photographed in 1898.

Collection of Naval Cadet C.R. Miller.

U.S. Naval Historical Center Photograph.

Online Image: 41,942 bytes; 740 x 574 pixels

Return to Naval Historical Center home page.
5 November 1998