Return to Naval Historical Center home page.

Return to Online Library listing

DEPARTMENT OF THE NAVY -- NAVAL HISTORICAL CENTER
901 M STREET SE -- WASHINGTON NAVY YARD
WASHINGTON DC 20374-5060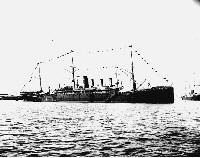 Online Library of Selected Images:
-- SPANISH NAVY SHIPS --
Buenos Aires (Transport, 1898)
Buenos Aires, a transport requisitioned for service during the Spanish-American War, was built as a merchant ship in 1887. In June & July 1898, she was part Admiral Camara's abortive Philippines relief expedition. Following the war, Buenos Aires returned to commercial service and was scrapped in 1942.

This page features a view of Buenos Aires.

If higher resolution reproductions than these digital images are desired, see "How to Obtain Photographic Reproductions."

Click on the small photograph to prompt a larger view of the same image.
Photo #: NH 94370

Buenos Aires
(Spanish Transport, 1887-1942

At Port Said, Egypt, 26 June - 11 July 1898, while serving with Rear Admiral Manuel de la Camara's Philippines relief expedition.
She was a merchant ship, requisitioned for naval service during the Spanish-American War.
The three smokestacks in the middle distance belong to the cruiser Carlos V.

Copied from an Office of Naval Intelligence photo album.

U.S. Naval Historical Center Photograph.

Online Image: 72,542 bytes; 740 x 620 pixels

Return to Naval Historical Center home page.
21 October 1998