Return to Naval Historical Center home page.

Return to Online Library listing

DEPARTMENT OF THE NAVY -- NAVAL HISTORICAL CENTER
901 M STREET SE -- WASHINGTON NAVY YARD
WASHINGTON DC 20374-5060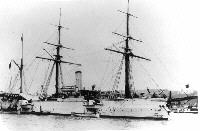 Online Library of Selected Images:
-- SPANISH NAVY SHIPS --
Cristobal Colon (Cruiser, 1887-1895)
Cristobal Colon, a 1160-ton Infanta Isabel class cruiser, was built at Carraca, Spain, in 1887. She was lost off Cuba in October 1895.
This page features a photograph that may show Cristobal Colon.
If higher resolution reproductions than these digital images are desired, see "How to Obtain Photographic Reproductions."
Click on the small photograph to prompt a larger view of the same image.
Photo #: NH 46866

Spanish Cruiser of the Infanta Isabel Class

Photographed in U.S. waters, with the river steamer Angler in the background, circa the 1880s or 1890s. This class of small cruisers included the Infanta Isabel (1885-1926), Isabel II (1886-1902), Cristobal Colon (1887-1895), Conde del Venadito (1888-1902), Don Antonio de Ulloa (1887-1898), and Don Juan de Austria (1887-1898). The latter two ships were lost in the Battle of Manila Bay, 1 May 1898, along with the Velasco (1881-1898), a ship of similar design.

U.S. Naval Historical Center Photograph.

Online Image: 56,584 bytes; 740 x 522 pixels

Return to Naval Historical Center home page.
23 October 1998