Return to Naval Historical Center home page.

Return to Online Library listing

DEPARTMENT OF THE NAVY -- NAVAL HISTORICAL CENTER
901 M STREET SE -- WASHINGTON NAVY YARD
WASHINGTON DC 20374-5060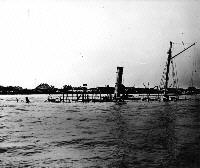 Online Library of Selected Images:
-- SPANISH NAVY SHIPS --
Cebu (Transport, 188?-1898)
Cebu, a 532-ton transport built during the 1880s, was part of the Spanish squadron in the Philippines at the beginning of the Spanish-American War. She was sunk on 1 May 1898 during Battle of Manila Bay.

This page features a view of Cebu after the Battle of Manila Bay.

If higher resolution reproductions than these digital images are desired, see "How to Obtain Photographic Reproductions."

Click on the small photograph to prompt a larger view of the same image.
Photo #: USN 902946

Battle of Manila Bay, 1 May 1898

Wreck of the Spanish armed transport Cebu, photographed sometime after the battle.

Donation of Lt. C.J. Dutreaux, USNR(Ret), 1947.

U.S. Naval Historical Center Photograph.

Online Image: 67,630 bytes; 740 x 655 pixels

Return to Naval Historical Center home page.
23 October 1998