Return to Naval Historical Center home page.

Return to Online Library listing

DEPARTMENT OF THE NAVY -- NAVAL HISTORICAL CENTER
901 M STREET SE -- WASHINGTON NAVY YARD
WASHINGTON DC 20374-5060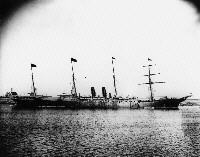 Online Library of Selected Images:
-- SPANISH NAVY SHIPS --
Covadonga (Transport, 1896-1898)
Covadonga, a transport, was built in the United Kingdom in 1883-85 for commercial use. Chartered by Spain as a transport in 1896, she was part of the abortive Philippines relief expedition during the Spanish-American War. Returned to merchant service after the war, she was scrapped in 1911.

This page features an 1898 view of Covadonga and another that may show her.

If higher resolution reproductions than these digital images are desired, see "How to Obtain Photographic Reproductions."

Click on the small photograph to prompt a larger view of the same image.
Photo #: NH 94371

Covadonga
(Spanish naval steamship, 1884-1911)

Probably photographed at Port Said, Egypt, during her service with Admiral Camara's squadron, June-July 1898. This force, sent from Spain to relieve the Philippines, passed Port Said eastbound on 26 June 1898, and westbound on 11 July.
Covadonga was requisitioned for naval service in 1898, and soon returned to merchant service. Built as the British Tainui, she was scrapped as Astoria in 1911.

U.S. Naval Historical Center Photograph.

Online Image: 69,622 bytes; 740 x 610 pixels
The following photograph shows a ship that may be Covadonga in the background of a view of another subject:
Photo #: NH 46869-A

Carlos V
(Spanish Cruiser, 1895-1933)

At Port Said, Egypt, 26 June - 11 July 1898, while serving with Rear Admiral Manuel de la Camara's squadron.
This cruiser was begun as Emperador Carlos V, but her name was shortened prior to completion. Ship at left, with two smokestacks, is a Spanish transport, either Covadonga or Colon.

Copied from Office of Naval Intelligence Album of Foreign Warships.

U.S. Naval Historical Center Photograph.

Online Image: 60,198 bytes; 740 x 645 pixels

Return to Naval Historical Center home page.
25 October 1998