Return to Naval Historical Center home page.

Return to Online Library listing

DEPARTMENT OF THE NAVY -- NAVAL HISTORICAL CENTER
901 M STREET SE -- WASHINGTON NAVY YARD
WASHINGTON DC 20374-5060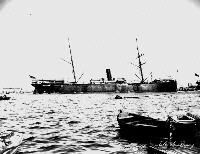 Online Library of Selected Images:
-- SPANISH NAVY SHIPS --
Isla de Panay (Auxiliary Cruiser, 1898)
Isla de Panay, an auxiliary cruiser and transport, was built as a merchant ship in 1882. During the Spanish-American War, she was taken over by the Spanish Navy. Isla de Panay was part of the abortive Philippines relief expedition of June-July 1898. Returned to commercial service following the war, she was wrecked on 7 December 1929.
This page features a photograph of Isla de Panay in 1898.
If higher resolution reproductions than these digital images are desired, see "How to Obtain Photographic Reproductions."
Click on the small photograph to prompt a larger view of the same image.
Photo #: NH 88616

Isla de Panay
(Spanish Auxiliary Cruiser, 1882-1929)

At Port Said, Egypt, 26 June - 11 July 1898, while serving with Rear Admiral Manuel de la Camara's Philippines relief squadron. Troops of the Second Marine Battalion are visible on deck.
She was a requisitioned merchant ship of the Compania Transatlantica Expanola, and flies that firm's flag at her foretop.

Copied from Office of Naval Intelligence Album of Foreign Warships.

U.S. Naval Historical Center Photograph.

Online Image: 65,792 bytes; 740 x 605 pixels

Return to Naval Historical Center home page.
25 October 1998