Return to Naval Historical Center home page.

Return to Online Library listing

DEPARTMENT OF THE NAVY -- NAVAL HISTORICAL CENTER
901 M STREET SE -- WASHINGTON NAVY YARD
WASHINGTON DC 20374-5060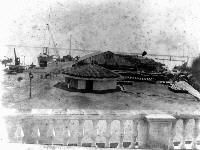 Online Library of Selected Images:
-- SPANISH NAVY SHIPS --
Marques del Duero (Gunboat, 1875-1898)
Marques del Duero, a 492-ton gunboat, was built at La Seyne, France, in 1875. She was part of the Spanish squadron in the Philippines at the start of the Spanish-American War and was sunk in the Battle of Manila Bay on 1 May 1898.

This page features a photograph showing Marques del Duero after her loss.

If higher resolution reproductions than these digital images are desired, see "How to Obtain Photographic Reproductions."

Click on the small photograph to prompt a larger view of the same image.
Photo #: NH 92314

Cavite Navy Yard, Philippine Islands

Photograph of the Machina Wharf, looking south from the roof of Building 24, 1900. Sheer legs are at left, by the small ship alongside the wharf. Note the sunken Spanish gunboat Marques Del Duero (1875-1898) in the right background.

U.S. Naval Historical Center Photograph.

Online Image: 70,705 bytes; 740 x 590 pixels

Return to Naval Historical Center home page.
25 October 1998