Return to Naval Historical Center home page.

Return to Online Library listing

DEPARTMENT OF THE NAVY -- NAVAL HISTORICAL CENTER
901 M STREET SE -- WASHINGTON NAVY YARD
WASHINGTON DC 20374-5060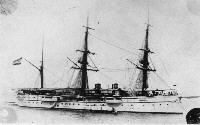 Online Library of Selected Images:
-- SPANISH NAVY SHIPS --
Navarra (Cruiser, 1881-1899)
Navarra, a 3289-ton wooden-hulled cruiser of the Aragon class, was built at Ferrol, Spain. Launched in 1881, she was disposed of about 1899.

This page features a photograph of what may be Navarra.

If higher resolution reproductions than these digital images are desired, see "How to Obtain Photographic Reproductions."

Click on the small photograph to prompt a larger view of the same image.
Photo #: NH 46854

Spanish Cruiser of the Aragon Class

Photographed circa the 1880s or 1890s. The three ships of this class were Aragon (1879-1900), Navarra (1881-1899) and Castilla (1881-1898). The latter ship was sunk in the Battle of Manila Bay, 1 May 1898.

U.S. Naval Historical Center Photograph.

Online Image: 52,446 bytes; 740 x 491 pixels

Return to Naval Historical Center home page.
20 October 1998