Return to Naval Historical Center home page.

Return to Online Library listing

DEPARTMENT OF THE NAVY -- NAVAL HISTORICAL CENTER
901 M STREET SE -- WASHINGTON NAVY YARD
WASHINGTON DC 20374-5060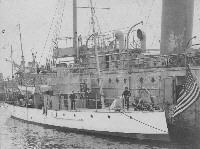 Online Library of Selected Images:
-- SPANISH NAVY SHIPS --
Sandoval (Gunboat, 1895-1898)
Sandoval, a 106-ton gunboat, was launched at Clydebank, Scotland, in September 1895. Stationed in Cuba during the Spanish-American War, she was captured at Santiago on 17 July 1898. From then until 1919, the U.S. Navy employed her as USS Sandoval. She was a private yacht from 1919 to 1924.

This page features a photograph of Sandoval after she became a U.S. Navy ship.

If higher resolution reproductions than these digital images are desired, see "How to Obtain Photographic Reproductions."

Click on the small photograph to prompt a larger view of the same image.
Photo #: NH 44246

USS Sandoval
(1895-1919)

Photographed in 1898, shortly after entering U.S. Navy service. She was a former Spanish gunboat, captured at Santiago, Cuba, on 17 July 1898.

U.S. Naval Historical Center Photograph.

Online Image: 78,570 bytes; 740 x 590 pixels

Return to Naval Historical Center home page.
25 October 1998