Return to Naval Historical Center home page.

Return to Online Library listing

DEPARTMENT OF THE NAVY -- NAVAL HISTORICAL CENTER
901 M STREET SE -- WASHINGTON NAVY YARD
WASHINGTON DC 20374-5060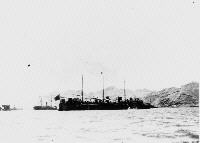 Online Library of Selected Images:
-- SPANISH NAVY SHIPS --
Terror (Destroyer, 1896-1925)
Terror, a 370-ton torpedo boat destroyer, was built in Scotland in 1896. During the Spanish-American War, she crossed the Atlantic with Admiral Cervera's squadron, but was unable to proceed to Cuba. Terror continued in service after the war, and was not disposed of until about 1925.

This page features a view of a destroyer that may be Terror.

If higher resolution reproductions than these digital images are desired, see "How to Obtain Photographic Reproductions."

Click on the small photograph to prompt a larger view of the same image.
Photo #: NH 88614

Admiral Cervera's fleet in the Cape Verde Islands, April 1898.

A Spanish torpedo boat destroyer photographed between mid-April and 29 April, when Cervera's fleet sailed from the Cape Verde Islands for the West Indies. This is either Terror, Furor or Pluton. One of the fleet's colliers is in the background.

Copied from Office of Naval Intelligence Album of Foreign Warships.

U.S. Naval Historical Center Photograph.

Online Image: 34,865 bytes; 740 x 560 pixels

Return to Naval Historical Center home page.
24 October 1998