Return to Naval Historical Center home page.

Return to Online Library listing

DEPARTMENT OF THE NAVY -- NAVAL HISTORICAL CENTER
805 KIDDER BREESE SE -- WASHINGTON NAVY YARD
WASHINGTON DC 20374-5060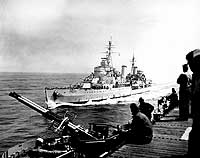 Online Library of Selected Images:
-- SHIPS of the BRITISH NAVY --
HMS Belfast (Cruiser, 1939-1971)
HMS Belfast, a 10,550-ton Edinburgh class light cruiser, was built at Belfast, Northern Ireland, and completed in August 1939. While engaged in wartime operations in the North Sea on 21 November 1939, she was badly damaged by a magnetic mine. Following an extensive rebuilding that lasted until late 1942, Belfast was employed for nearly two years in the North Atlantic and Arctic. During this time, she took part in the sinking of the German battleship Scharnhorst and in the Normandy invasion. She was en route to the Pacific war zone when World War II ended and served in the Far East during the post-war years of 1945-47.
Belfast returned to Asian waters in 1948 for an eventful tour, including vigorous participation in the first weeks of the Korean War. In 1951-52, she again deployed to Korea. On 29 July 1952, while engaged in one of her many bombardments of enemy positions, she received damage and casualties from return artillery fire. Placed in reserve in 1953, Belfast was modernized during the late 1950s and saw further service in the Far East and Indian Ocean in 1959-62. After briefly operating in the Atlantic and Mediterranean, she was placed in reserve in August 1963. In 1971, HMS Belfast became a museum ship at London and remains in that role today.
This page features views of HMS Belfast during the Korean War.
Click on the small photograph to prompt a larger view of the same image.
Photo #: NH 99085

HMS Belfast (British Light Cruiser, 1939)

In the channel at Pusan, Korea, 2 April 1952.
USS Consolation (AH-15) is also present, beyond Belfast's bow.

Official U.S. Navy Photograph, from the collections of the Naval Historical Center.

Online Image: 103KB; 740 x 610 pixels

Photo #: 80-G-633883

HMS Belfast
(British Light Cruiser, 1939)

Coming alongside USS Bataan (CVL-29) while operating off the coast of Korea on 27 May 1952.
One of Bataan's 40mm twin gun mounts is in the left foreground.

Official U.S. Navy Photograph, now in the collections of the National Archives.

Online Image: 97KB; 740 x 610 pixels

Reproductions of this image may also be available through the National Archives photographic reproduction system.

Return to Naval Historical Center home page.
Page made 6 October 1999
New image added 17 January 2004