Return to Naval Historical Center home page.

Return to Online Library listing

DEPARTMENT OF THE NAVY -- NAVAL HISTORICAL CENTER
805 KIDDER BREESE SE -- WASHINGTON NAVY YARD
WASHINGTON DC 20374-5060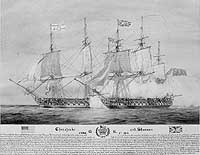 Online Library of Selected Images:
-- SHIPS of the BRITISH NAVY --
HMS Shannon (Frigate, 1806-1859)
HMS Shannon, a 1066-ton fifth rate (38-gun frigate) was built in England in 1806. She was commanded for the next seven years by Captain Philip Broke, R.N., who carefully trained his officers and crew in the art and science of gunnery. Shannon operated in the northern and eastern Atlantic until 1811, then served off the North American coast. In July 1812, soon after the outbreak of the War of 1812, she took part in the abortive pursuit of USS Constitution. On 1 June 1813 her Commanding Officer's emphasis on gunnery skill and discipline was rewarded by a decisive victory over the U.S. Frigate Chesapeake, an action that provided a badly-needed boost to the Royal Navy's morale after it had suffered several defeats in ship-to-ship combat with the U.S. Navy.
Shannon was relegated to harbor service as a receiving ship in 1832. She was renamed St. Lawrence in 1844 and broken up at Chatham Dockyard, England, in 1859.
This page provides links to all the views we have related to HMS Shannon (1806-1859).
All the images we have concerning HMS Shannon depict her in action during the War of 1812. These actions include:

USS Constitution escapes from a British Squadron, July 1812 (Shannon is seen, distantly, in several views of this action); and

HMS Shannon captures USS Chesapeake, 1 June 1813 (Shannon is shown in all the general views of this battle, and members of her crew are seen in the images of the boarding of the Chesapeake).








Return to Naval Historical Center home page.
Page made 6 July 2003