Return to Naval Historical Center home page.

Return to Online Library listing


DEPARTMENT OF THE NAVY -- NAVAL HISTORICAL CENTER
805 KIDDER BREESE SE -- WASHINGTON NAVY YARD
WASHINGTON DC 20374-5060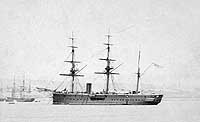 Online Library of Selected Images:
-- SHIPS of the BRITISH NAVY --
HMS Vanguard (Central Battery Ironclad, 1870-1875)
HMS Vanguard, one of the four 6010-ton Audacious class central battery ironclad battleships, was built at Birkenhead, Scotland. She was completed in September 1870 and entered commissioned service as guardship at Kingstown, Ireland. In that role she went to sea annually with other units of the First Reserve. On 1 September 1875 Vanguard was en route from Dublin to Queenstown with three other battleships when a fog enveloped the formation, and she was rammed by her sister, HMS Iron Duke. The error of navigation that led to this accident was duly compounded by design deficiencies that rendered Vanguard, and the other three ships of her class, extraordinarily vulnerable to underwater damage. As water flowed into the wounded battleship, her internal compartmentation was incapable of containing the flow. With boiler furnaces soon extinguished, thus depriving her of power, unstoppable progressive flooding sank Vanguard in a little over an hour. Fortunately, no lives were lost in this accident, one of several ironclad era incidents that demonstrated the dangers that ram bows posed to ships operating in company.
This page features the only view we have concerning the British central battery ironclad Vanguard.
Click on the small photograph to prompt a larger view of the same image.
Photo #: NH 52617

HMS Vanguard (British Central Battery Ironclad Battleship, 1870)

At anchor, circa 1870-1875.
The original print is mounted on a Carte de Visite.

U.S. Naval Historical Center Photograph.

Online Image: 55KB; 740 x 475 pixels

Return to Naval Historical Center home page.
Page made 10 May 2006