Return to Naval Historical Center home page.

Return to Online Library listing

DEPARTMENT OF THE NAVY -- NAVAL HISTORICAL CENTER
805 KIDDER BREESE SE -- WASHINGTON NAVY YARD
WASHINGTON DC 20374-5060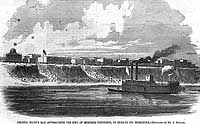 Online Library of Selected Images:
-- SHIPS of the UNITED STATES ARMY --
U.S. Ram Mingo (1862-1862)
Mingo was a 228-ton stern-wheel steamer built at California, Pennsylvania, in 1859. She was converted to a ram in the spring of 1862 by Colonel Charles Ellet as a unit of his ram fleet. During the naval battle off Memphis, Tennessee, on 6 June 1862, she covered the rear of Ellet's force and saw no combat. Thereafter, she operated in the Mississippi River area until November 1862, when she sank accidently at Cape Girardeau, Missouri.
This page features a view that may represent the U.S. Ram Mingo.
Click on the small photograph to prompt a larger view of the same image.
Photo #: NH 59055

"Colonel Ellet's Ram Approaching the City of Memphis, Tennessee, to Demand its Surrender."

Line engraving after a sketch by Alexander Simplot, published in "Harper's Weekly", 1862, depicting an incident at the close of the Battle of Memphis on 6 June 1862. The steamer shown may be Mingo or Lioness, the stern-wheel rams of Ellet's fleet.

U.S. Naval Historical Center Photograph.

Online Image: 130KB; 740 x 485 pixels

Return to Naval Historical Center home page.
24 March 2000