Return to Naval Historical Center home page.

Return to Online Library listing

DEPARTMENT OF THE NAVY -- NAVAL HISTORICAL CENTER
805 KIDDER BREESE SE -- WASHINGTON NAVY YARD
WASHINGTON DC 20374-5060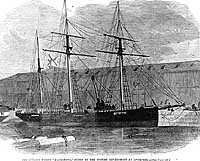 Online Library of Selected Images:
-- SHIPS of the CONFEDERATE STATES --
Alexandra (1863)
Alexandra, a bark-rigged screw steamer, was built at Liverpool, England, with the intention of using her as a Confederate Navy cruiser. Launched in March 1863, she was seized by the British Government the following month, while fitting out. Her status remained in litigation for a year. Released in 1864, she was renamed Mary, reputedly for use as a merchant vessel. Under her new name, she crossed the Atlantic, stopping in Nova Scotia, Bermuda and Nassau, Bahamas. Mary was again seized at the latter port in December 1864 and held until May 1865, by which time the American Civil War had ended.
This page features our only view of the prospective Confederate Navy cruiser Alexandra.
Click on the small photograph to prompt a larger view of the same image.
Photo #: NH 63221

"The English Pirate 'Alexandra,' Seized by the British Government at Liverpool"

Line engraving published in "Harper's Weekly", Volume 7 (January-June 1863), page 364.
Alexandra was built in Liverpool as an intended Confederate cruiser. Seized by British customs officials on 5 April 1863, while fitting out, she was not released until the following year. She was again seized late in 1864 at Nassau, Bahamas, under the name Mary and held until the end of the Civil War.

U.S. Naval Historical Center Photograph.

Online Image: 157KB; 740 x 620 pixels

Return to Naval Historical Center home page.
Page made 12 January 2000
Coding updated 5 May 2001