Return to Naval Historical Center home page.

Return to Online Library listing

DEPARTMENT OF THE NAVY -- NAVAL HISTORICAL CENTER
805 KIDDER BREESE SE -- WASHINGTON NAVY YARD
WASHINGTON DC 20374-5060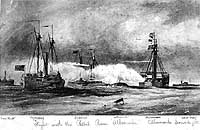 Online Library of Selected Images:
-- SHIPS of the CONFEDERATE STATES --
CSS Bombshell (1864-1864)
CSS Bombshell, a small steamer, was formerly a U.S. Army Transport that had been sunk on 18 April 1864 by Confederate shore batteries in Albemarle Sound, North Carolina. Raised and taken into the Confederate Navy, she accompanied the ironclad ram CSS Albemarle on her 5 May 1864 sortie against Union Navy ships on Albemarle sound. During the resulting action, Bombshell was captured by the gunboats USS Sassacus and USS Mattabesett.
This page features our only view of CSS Bombshell.
Click on the small photograph to prompt a larger view of the same image.
Photo #: NH 1673

"Wood versus Iron"

19th Century photograph of an artwork by Acting Second Engineer Alexander C. Stuart, USN, 1864.
It shows CSS Albemarle engaging several Federal gunboats on Albemarle Sound, North Carolina, on 5 May 1864. USS Sassacus is in left center, ramming the Confederate ironclad. Other U.S. Navy ships seen are (from left): Commodore Hull, Wyalusing and Mattabesett. The Confederate transport Bombshell, captured during the action, is in the right background.
Albemarle was not significantly damaged during this action, which left Sassacus disabled by a hit in one of her boilers.

Collection of Surgeon H.P. Babcock, presented by George R. Babcock, 1938.

U.S. Naval Historical Center Photograph.

Online Image: 140KB; 740 x 505 pixels

Return to Naval Historical Center home page.
Page made 24 October 1999
Coding updated 5 May 2001