Return to Naval Historical Center home page.

Return to Online Library listing

DEPARTMENT OF THE NAVY -- NAVAL HISTORICAL CENTER
805 KIDDER BREESE SE -- WASHINGTON NAVY YARD
WASHINGTON DC 20374-5060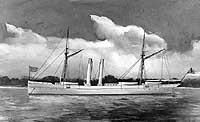 Online Library of Selected Images:
-- SHIPS of the CONFEDERATE STATES --
CSS Chickamauga (1864-1865)
CSS Chickamauga, a 585-ton cruiser, was formerly the blockade running screw steamer Edith, which had been constructed in London, England, in 1863. She was purchased by the Confederate Navy at Wilmington, North Carolina, in 1864 and refitted as a warship. Chickamauga operated as a raider in the western North Atlantic in October and November 1864. After capturing several Union merchant ships, she returned to Wilmington. Chickamauga remained on the Cape Fear River until 25 February 1865, when she was burned to prevent capture.
This page features our only view of CSS Chickamauga.
Click on the small photograph to prompt a larger view of the same image.
Photo #: NH 59630

CSS Chickamauga (1864-65)

Wash drawing by Clary Ray, 25 June 1897.
This ship was originally the blockade running steamer Edith.

Courtesy of the Navy Art Collection, Washington, D.C.

U.S. Naval Historical Center Photograph.

Online Image: 102KB; 740 x 475 pixels

Return to Naval Historical Center home page.
Page made 9 April 2000
Coding updated 5 May 2001