Return to Naval Historical Center home page.

Return to Online Library listing

DEPARTMENT OF THE NAVY -- NAVAL HISTORICAL CENTER
805 KIDDER BREESE SE -- WASHINGTON NAVY YARD
WASHINGTON DC 20374-5060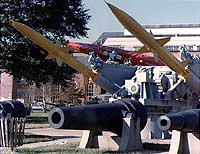 Online Library of Selected Images:
-- SHIPS of the CONFEDERATE STATES --
CSS Columbia (1864)
CSS Columbia, a 218-foot ironclad ram built at Charleston, South Carolina, was launched in March 1864 and entered service later in that year. On 12 January 1865, while on duty as part of the defenses of Charleston, she struck a sunken wreck near Fort Moultrie and suffered fatal damage. She was salvaged by Federal forces after they captured the city and in May 1865 was towed to Norfolk, Virginia. Her hulk was sold in October 1867.
This page features the only view we have related to CSS Columbia.
Click on the small photograph to prompt a larger view of the same image.
Photo #: KN-27603 (Color)

Washington Navy Yard, Washington, D.C.

Old weapons on exhibit in East Willard Park, circa Summer 1978. This area was rebuilt to another design in 1981-82, with the artifacts rearranged. Many of them, including all the missiles, were removed in or before the year 2000.
The gun in the center is a 10-inch Brooke smoothbore from CSS Columbia. A Confederate 5-inch Whitworth rifle is at right, and a double-banded 7-inch Brooke rifle (captured on CSS Tennessee) is at left.
A prototype launcher for "Terrier" missiles is behind these guns. In the center background is a "Regulus II" missile. Buildings 111 and 106 are in the distance.
This photograph was received by the Naval Photographic Center in January 1979.

Official U.S. Navy Photograph.

Online Image: 143KB; 740 x 595 pixels

Reproductions of this image may also be available through the National Archives photographic reproduction system as Photo # 428-KN-27603

Return to Naval Historical Center home page.
Page made 10 March 2002