Return to Naval Historical Center home page.

Return to Online Library listing

DEPARTMENT OF THE NAVY -- NAVAL HISTORICAL CENTER
805 KIDDER BREESE SE -- WASHINGTON NAVY YARD
WASHINGTON DC 20374-5060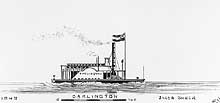 Online Library of Selected Images:
-- SHIPS of the CONFEDERATE STATES --
Darlington (C.S. Steamship, 1861-1862).
Also USS Darlington (1862),
U.S. Army Transport Darlington (1862 - circa 1866)
and civilian steamer Darlington (1849-1861, 1866-1874)
Darlington, a 298-ton side-wheel steamship, was built at Charleston, South Carolina, in 1849 for civilian employment. In 1861-62 she was apparently used by the Confederate Army to carry equipment and supplies in the Florida coastal region. She was captured on 3 March 1862 near Fernandina, Florida, by a boat expedition from USS Pawnee. Darlington was subsequently employed by the U.S. Navy in the waters between northern Florida and southern South Carolina. In September 1862 she was transferred to the Army for use as a transport. Sold in 1866, Darlington again saw civilian service until 1874.
This page features our only view of the steamship Darlington.
Click on the small photograph to prompt a larger view of the same image.
Photo #: NH 66960

Confederate steamship Darlington (1861-1862)

Watercolor by Erik Heyl, 1963, prepared for use in his book "Early American Steamers", Volume III.
Originally built in 1849 as a civilian steamer and operated by the Confederates in 1861-62, Darlington was captured by USS Pawnee on 3 March 1862. After some months' service with the U.S. Navy, she became the U.S. Army Transport Darlington in September 1862. She reentered commericial employment as SS Darlington in 1866 and survived until 1874.

Courtesy of Erik Heyl.

U.S. Naval Historical Center Photograph.

Online Image: 36KB; 740 x 370 pixels

Return to Naval Historical Center home page.
Page made 25 November 2001