Return to Naval Historical Center home page.

Return to Online Library listing

DEPARTMENT OF THE NAVY -- NAVAL HISTORICAL CENTER
805 KIDDER BREESE SE -- WASHINGTON NAVY YARD
WASHINGTON DC 20374-5060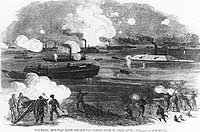 Online Library of Selected Images:
-- SHIPS of the CONFEDERATE STATES --
CSS Fredericksburg (1864-1865)
CSS Fredericksburg, a 188-foot ironclad ram built at Richmond, Virginia, entered service with the Confederate Navy's James River Squadron in 1864. During June-December of that year, she took part in several engagements with Federal forces on the James, but with little damage resulting to either side. Fredericksburg's most significant action was at Trent's Reach on 23-24 January 1865, when she participated in an abortive attempt to pass the river obstructions and attack Union bases. A little over three months later, on 3 April, CSS Fredericksburg was blown up to prevent capture when the Confederates evacuated Richmond.
This page features our only view of CSS Fredericksburg.
Click on the small photograph to prompt a larger view of the same image.
Photo #: NH 59187

"The Rebel Iron-Clad Fleet Forcing the Obstructions in James River", 23 January 1865

Line engraving, based on a sketch by A.R. Waud, published in "Harper's Weekly", 11 February 1865, page 81. It depicts the Confederate ironclads Virginia II, Richmond and Fredericksburg attempting to run past the obstructions at Trent's Reach to attack Federal positions along the James River.

U.S. Naval Historical Center Photograph.

Online Image: 122KB; 740 x 515 pixels

Return to Naval Historical Center home page.
Page made 17 July 2001