Return to Naval Historical Center home page.

Return to Online Library listing

DEPARTMENT OF THE NAVY -- NAVAL HISTORICAL CENTER
805 KIDDER BREESE SE -- WASHINGTON NAVY YARD
WASHINGTON DC 20374-5060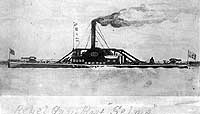 Online Library of Selected Images:
-- SHIPS of the CONFEDERATE STATES --
CSS Selma (1861-1864), named Florida in 1861-62.
Later USS Selma (1864-1865)
CSS Selma, a 320-ton side-wheel gunboat, was built in 1856 at Mobile, Alabama, as the civilian coastal steamer Florida. Taken over by the Confederate Government in April 1861, she was converted to a warship, retaining the name Florida. She served in the New Orleans, Lake Ponchartrain, Mississippi Sound and Mobile Bay areas throughout her career, successfully engaging the U.S. Navy ship Massachusetts on 19 October 1861 and the USS Montgomery on 4 December of that year. The gunboat was renamed Selma in July 1862. She was sunk by a snag near Mobile in February 1863, but was quickly repaired and returned to service.
During the Battle of Mobile Bay on 5 August 1864, Selma, commanded by First Lieutenant Peter U. Murphey, was one of three Confederate gunboats that joined CSS Tennessee in fighting the Union fleet as it passed Fort Morgan. After the Federal ships had entered Mobile Bay, USS Metacomet was sent in chase of the Selma. Following an hour's pursuit, the Confederate ship was hit by gunfire and forced to surrender.
Immediately taken into U.S. Navy service as USS Selma, she helped bombard Fort Morgan later in August and served in Mobile Bay until January 1865, when she was transferred to New Orleans, Louisiana. Selma decommissioned in July 1865 and was sold at that time to civilian owners. She thereafter operated as a merchant steamer under the same name. On 24 June 1868, the SS Selma foundered off the mouth of the Brazos River, Texas.
This page features all our views of CSS Selma.
Click on the small photograph to prompt a larger view of the same image.
Photo #: NH 511

CSS Selma (1861-1864)

Civil War era sketch.
Photographed by T. Lilienthal, New Orleans, Louisiana.

Courtesy of the Philibrick Collection, Kittery, Maine.

U.S. Naval Historical Center Photograph.

Online Image: 83KB; 740 x 445 pixels

Photo #: NH 42392

"Battle of Mobile Bay, August 5, 1864"

Reproduction of an 1864 pen & ink drawing by George S. Waterman, C.S.N., depicting the action as seen from above and inside the entrance to Mobile Bay.
Confederate ships present are (as identified on the drawing): Selma, Morgan, Gaines (shown twice, in the battle line, and beached off Fort Morgan after the battle) and Tennessee.
Union monitors shown are (from the front of the line): Tecumseh (sinking after striking a mine), Manhattan, Winnebago and Chickasaw. The leading two steam sloops in the Union line are Brooklyn and Hartford.
Small diagram in the lower right represents the various efforts by Union ships to ram the Tennessee later in the action.

U.S. Naval Historical Center Photograph.

Online Image: 150KB; 740 x 580 pixels

Photo #: NH 42219

Capture of CSS Selma by USS Metacomet, 5 August 1864

Engraving by Winham, "from a War-time sketch", published in "Battles and Leaders of the Civil War", Volume IV, page 394, depicting an incident of the Battle of Mobile Bay.

U.S. Naval Historical Center Photograph.

Online Image: 118KB; 740 x 515 pixels

Return to Naval Historical Center home page.
Page made 16 September 2000
New image added 21 May 2001