Return to Naval Historical Center home page.

Return to Online Library listing

DEPARTMENT OF THE NAVY -- NAVAL HISTORICAL CENTER
805 KIDDER BREESE SE -- WASHINGTON NAVY YARD
WASHINGTON DC 20374-5060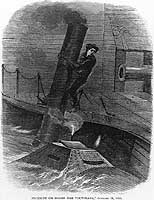 Online Library of Selected Images:
-- SHIPS of the CONFEDERATE STATES --
Saint Patrick (Confederate torpedo boat, 1864-1865)
Saint Patrick, a small semi-submersible torpedo boat, was privately built at Selma, Alabama, in 1864. Operating under the Confederate Army's control, but with a C.S. Navy commanding officer, she attacked USS Octorara in Mobile Bay on 28 January 1865. However, her torpedo misfired, and the Union ship was not damaged. St. Patrick was able to escape the return fire and return to Mobile.
This page features our only view related to the Confederate torpedo boat Saint Patrick.
Click on the small photograph to prompt a larger view of the same image.
Photo #: NH 59153

"Incident on board the 'Octorara', January 26, 1865"

Line engraving published in "Harper's Weekly", February 1865, depicting the attack on USS Octorara by the Confederate torpedo boat St. Patrick, in Mobile Bay, Alabama.

U.S. Naval Historical Center Photograph.

Online Image: 151KB; 570 x 765 pixels

Return to Naval Historical Center home page.
Page made 29 April 2001