Return to Naval Historical Center home page.

Return to Online Library listing

DEPARTMENT OF THE NAVY -- NAVAL HISTORICAL CENTER
805 KIDDER BREESE SE -- WASHINGTON NAVY YARD
WASHINGTON DC 20374-5060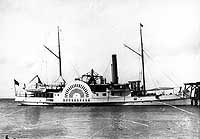 Online Library of Selected Images:
-- SHIPS of the UNITED STATES COAST GUARD, REVENUE CUTTER SERVICE and LIGHTHOUSE SERVICE --
USRC Louis McLane (1865-1903).
Name changed from Delaware in 1873.
Served as USS Delaware in 1861-1865
USRC Louis McLane, a 357-ton (burden) iron-hulled side-wheel revenue cutter, was built at Wilmington, Delaware, in 1861 as the commercial steamship Virginia Dare. Purchased by the Navy in October 1861, she was commissioned as USS Delaware and began active service before the end of the year. During 1862, 1863, and into 1864 she mainly served in the North Carolina Sounds, participating in the capture of Roanoke Island in February 1862 as well as in other offensive and blockade enforcement operations, but also operated in Virginia waters in mid-1862 and for some of 1863. In late March 1864 Delaware was transferred permanently to Virginia, and spent the rest of the Civil War on the James River, in the Hampton Roads area and on Chesapeake Bay. Decommissioned in August 1865, she was sold to the Treasury Department soon afterwards.
Commissioned as USRC Delaware, she was sent to the Galveston, Texas, later in 1865. Beginning in 1868 she operated out of Mobile, Alabama. The cutter was renamed Louis McLane in June 1873. The remainder of her career was spent in the Gulf of Mexico, based at Pensacola and Key West. Following over four decades of Navy and Revenue Cutter Cutter service, Louis McLane was sold in October 1903. She subsequently became the civilian steamer Louis Dolive and was employed until about 1919, when she was removed from shipping registers.
This page features our only view of the U.S. Revenue Cutter Louis McLane (named Delaware until 1873), which served as USS Delaware in 1861-1865.
Click on the small photograph to prompt a larger view of the same image.
Photo #: NH 96590

USRC Louis McLane (U.S. Revenue Cutter, 1865)

Photographed during the last decades of the 19th Century.
Built for commercial use in 1861, this steamer had Civil War service as USS Delaware during 1861-1865. She became the Revenue Cutter Delaware in August 1865 and was renamed Louis McLane in 1873.

Courtesy of the U.S. Coast Guard Historian.

U.S. Naval Historical Center Photograph.

Online Image: 79KB; 740 x 540 pixels

Return to Naval Historical Center home page.
Page made 15 June 2003