Return to Naval Historical Center home page.
Return to Online Library listing
DEPARTMENT OF THE NAVY -- NAVAL HISTORICAL CENTER
901 M STREET SE -- WASHINGTON NAVY YARD
WASHINGTON DC 20374-5060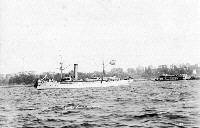 Online Library of Selected Images:
-- SHIPS of the U.S. COAST GUARD, REVENUE CUTTER SERVICE and LIGHTHOUSE SERVICE --
USRC/USCGC Manning (1898-1930)
USRC Manning, a 1150-ton cruising cutter, was built at East Boston, Massachusetts, and commissioned in January 1898. Her long career with the Revenue Cutter Service (the U.S. Coast Guard after 1915) was twice interrupted by wartime operations with the Navy. In 1898, during the Spanish-American War, she served off Cuba. She transferred to the Pacific after that, but returned to the Atlantic for World War I, during which she mainly operated in European waters. Manning was stationed at Norfolk, Virginia, during the 1920s. She was decommissioned and sold in 1930.

This page features an 1898-99 photo of USRC Manning.

If higher resolution reproductions than these digital images are desired, see "How to Obtain Photographic Reproductions."

Click on the small photograph to prompt a larger view of the same image.
Photo #: NH 46627

USRC Manning (1898-1930)

Photograph by Hart, taken off New York City circa 1898-99.

U.S. Naval Historical Center Photograph.

Online Image: 62,983 bytes; 740 x 510 pixels
Return to Naval Historical Center home page.
17 October 1998