Return to Naval Historical Center home page.
Return to Online Library listing
DEPARTMENT OF THE NAVY -- NAVAL HISTORICAL CENTER
901 M STREET SE -- WASHINGTON NAVY YARD
WASHINGTON DC 20374-5060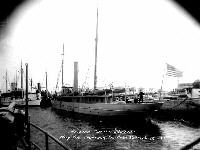 Online Library of Selected Images:
-- SHIPS of the U.S. COAST GUARD, REVENUE CUTTER SERVICE and LIGHTHOUSE SERVICE --
USRC/USCGC Morrill (1889-1928), also called Lot M. Morrill
USRC Morrill, whose rarely used official name was Lot M. Morrill, was a 288-ton patrol cutter built at Wilmington, Delaware. Commissioned in October 1889, she initially operated off the U.S. southeastern coast. In 1895-98, she enforced neutrality laws in the Florida Straits during the Cuban insurrection. In the Spanish-American War that followed, Morrill helped to blockade Cuba.

Morrill was transferred to the Great Lakes after the war, remaining there until 1917, when she again was placed under Navy control and returned to the Atlantic. The cutter rendered assistance at Halifax, Nova Scotia, after the disastrous explosion of the steamer Mont Blanc in December 1917. Following World War I Morrill again served on the Great Lakes. She was decommissioned in October 1928.

This page features an 1898 view of USRC Morrill.

If higher resolution reproductions than these digital images are desired, see "How to Obtain Photographic Reproductions."

Click on the small photograph to prompt a larger view of the same image.
Photo #: 19-N-19-21-10

USRC Morrill (1889-1928)

At the Norfolk Navy Yard, Portsmouth, Virginia, 22 April 1898.

Photograph from the Bureau of Ships Collection in the U.S. National Archives.

Online Image: 55,768 bytes; 740 x 590 pixels

Reproductions of this image may also be available through the National Archives photographic reproduction system.
Return to Naval Historical Center home page.
17 October 1998