Return to Naval Historical Center home page.
Return to Online Library listing
DEPARTMENT OF THE NAVY -- NAVAL HISTORICAL CENTER
901 M STREET SE -- WASHINGTON NAVY YARD
WASHINGTON DC 20374-5060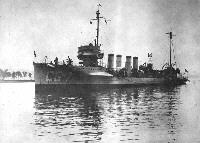 Online Library of Selected Images:
-- SHIPS of the U.S. COAST GUARD, REVENUE CUTTER SERVICE and LIGHTHOUSE SERVICE --
USCGC Porter (CG-7), 1925-1933. Formerly USS Porter (DD-59)
USCGC Porter, a former U.S. Navy destroyer built at Philadelphia, Pennsylvania, in 1916, was acquired by the Coast Guard in June 1924. Commissioned in February 1925, she spent her Coast Guard career operating out of New York in support of Prohibition law enforcement efforts. Decommissioned in June 1933, she was returned to the Navy and scrapped.

This page features a view of USCGC Porter.

For additional images of this ship, showing her while in Navy service, see USS Porter (DD-59)

If higher resolution reproductions than these digital images are desired, see "How to Obtain Photographic Reproductions."

Click on the small photograph to prompt a larger view of the same image.
Photo #: NH 42647

USCGC Porter (CG-7)

Photographed circa 1924-30, while operating to support the enforcement of Prohibition laws as a unit of the U.S. Coast Guard. She was originally USS Porter (DD-59).
Note what appears to be a large radio direction finder amidships.

Courtesy of the Commandant of the Coast Guard, 1930.

U.S. Naval Historical Center Photograph.

Online Image: 73,694 bytes; 740 x 570 pixels
Return to Naval Historical Center home page.
17 October 1998