Return to Naval Historical Center home page.

Return to Online Library listing


DEPARTMENT OF THE NAVY -- NAVAL HISTORICAL CENTER
805 KIDDER BREESE SE -- WASHINGTON NAVY YARD
WASHINGTON DC 20374-5060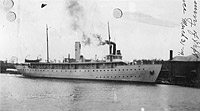 Online Library of Selected Images:
-- SHIPS of OTHER U.S. GOVERNMENT AGENCIES--
Surveyor (Coast and Geodetic Survey Ship, 1917)
Served as USS Surveyor in 1917-1919.
Surveyor, a 1000 ton (displacement) surveying ship, was completed for the U. S. Coast and Geodetic Survey by the Manitowoc (Wisconsin) Ship Building Co. in 1917. She was transferred to the U.S. Navy in September 1917 and commissioned in October 1917 as USS Surveyor (with no ID #). Ordered to Gibraltar, she served overseas through the end of World War I. Her armament was ordered removed in January 1919, and in March 1919 the ship was returned to the Department of Commerce to resume operations for the Coast and Geodetic Survey. Between the World Wars she worked primarily in Alaskan waters. She remained in USC&GS service in the Pacific until 1956.
This page features the only view we have concerning USC&GS Surveyor and USS Surveyor.
Click on the small photograph to prompt a larger view of the same image.
Photo #: NH 105641

Surveyor (Coast & Geodetic Survey Ship, 1917)

Possibly photographed at the time of her completion at Manitowoc, Wisconsin, in 1917.
This ship served as USS Surveyor between September 1917 and March 1919.

U.S. Naval Historical Center Photograph.

Online Image: 54KB; 740 x 435 pixels

Return to Naval Historical Center home page.
Page made 23 May 2008