Return to Naval Historical Center home page.
Return to Online Library listing
DEPARTMENT OF THE NAVY -- NAVAL HISTORICAL CENTER
901 M STREET SE -- WASHINGTON NAVY YARD
WASHINGTON DC 20374-5060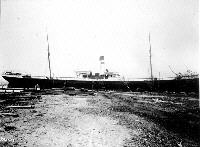 Online Library of Selected Images:
-- U.S. NAVY SHIPS --
USS Abarenda (1898-1926, later AC-13 & AG-14)
USS Abarenda, a 6680-ton collier, was built for commercial use in 1892 at Newcastle, England. Acquired by the Navy for Spanish-American War service, she was commissioned in May 1898 and transported coal and supplies to warships serving off Cuba.
For nearly three decades after 1898, Abarenda supported Navy operations World-wide as a collier, supply ship and, occasionally, as a station ship. She was designated AC-13 in 1920 and AG-14 in 1924. Abarenda was decommissioned in January 1926 and sold the following month.
This page features a selected view of USS Abarenda.
If higher resolution reproductions than these digital images are desired, see "How to Obtain Photographic Reproductions."
Click on the small photograph to prompt a larger view of the same image.
Photo #: 111-SC-5881

USS Abarenda (1898-1926)

At the New York Navy Yard, Brooklyn, New York, May 1898, while being fitted for war service.

Photograph from the Army Signal Corps Collection in the U.S. National Archives.

Online Image: 71,103 bytes; 740 x 580 pixels

Reproductions of this image may also be available through the National Archives photographic reproduction system.
Return to Naval Historical Center home page.
1 October 1998