Return to Naval Historical Center home page.

Return to Online Library listing

DEPARTMENT OF THE NAVY -- NAVAL HISTORICAL CENTER
805 KIDDER BREESE SE -- WASHINGTON NAVY YARD
WASHINGTON DC 20374-5060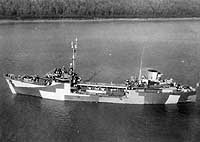 Online Library of Selected Images:
-- U.S. NAVY SHIPS --
USS Chehalis (AOG-48), 1944-1949
USS Chehalis, a 1850-ton Patapsco class gasoline tanker built at Savage, Minnesota, was placed in commission in December 1944. She went to the Pacific early in 1945, arrived in Philippine waters in May and spent the next seven months providing fuel for motor torpedo boats and other small craft there and at Okinawa. Beginning in March 1946 the tanker was employed transporting fuel in the central and southern Pacific. While at Tutuila, American Samoa, on 7 October 1949 USS Chehalis suffered a gasoline explosion, burned and sank. Six of her crew lost their lives in this accident.
This page features the only view we have concerning USS Chehalis (AOG-48).
Click on the small photograph to prompt a larger view of the same image.
Photo #: NH 83319

USS Chehalis (AOG-48)

Photographed circa 1944, while wearing Camouflage Measure 32, Design 3D.

Courtesy of Donald M. McPherson, 1975.

U.S. Naval Historical Center Photograph.

Online Image: 81KB; 740 x 550 pixels

Return to Naval Historical Center home page.
Page made 2 September 2004