Return to Naval Historical Center home page.

Return to Online Library listing


DEPARTMENT OF THE NAVY -- NAVAL HISTORICAL CENTER
805 KIDDER BREESE SE -- WASHINGTON NAVY YARD
WASHINGTON DC 20374-5060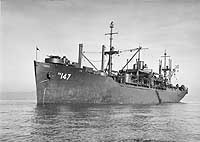 Online Library of Selected Images:
-- U.S. NAVY SHIPS --
USS Cottle (APA-147), 1944-1973

USS Cottle, one of 117 Haskell class attack transports, was built to a modified Victory ship design at Vancouver, Washington, and was commissioned in December 1944. She sailed from the West Coast in May 1945, transporting Army troops from Seattle to Honolulu. She then carried a group of naval construction battalion personnel to Samar in the Philippines. Embarking passengers, cargo, and Japanese prisoners of war at Ulithi and Guam, she returned to Pearl Harbor in May. There she took on board four underwater demolition teams, which she delivered to San Francisco in June. Between late June and early August she made a round trip to Manila carrying Army troops.
After the Japanese surrender, Cottle got underway from San Pedro, loaded Army occupation troops at Pearl Harbor, and delivered them to Wakayama, Japan in September 1945. She then carried out two "Magic Carpet" voyages, returning one load of servicemen from the Philippines to San Francisco in October and another at the turn of the year. She sailed from San Francisco in January 1946 for Norfolk. There she was decommissioned, stricken from the Navy list, and returned to the Maritime Commission in March. Placed in the reserve fleet, she was sold for scrapping in April 1973.
This page features our only view of USS Cottle (APA-147).
Click on the small photograph to prompt a larger view of the same image.
Photo #: NH 98712

USS Cottle (APA-147)

In San Francisco Bay, California, between October 1945 and January 1946.

Donation of Boatswain's Mate First Class Robert G. Tippins, USN (Retired), 2003.

U.S. Naval Historical Center Photograph.

Online Image: 74KB; 740 x 550 pixels

Return to Naval Historical Center home page.
Page made 7 September 2003