Return to Naval Historical Center home page.

Return to Online Library listing


DEPARTMENT OF THE NAVY -- NAVAL HISTORICAL CENTER
805 KIDDER BREESE SE -- WASHINGTON NAVY YARD
WASHINGTON DC 20374-5060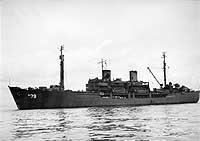 Online Library of Selected Images:
-- U.S. NAVY SHIPS --
USS Dawson (APA-79), 1945-1948

USS Dawson, a 4,247-ton Gilliam-class attack transport, was built at Wilmington, California, and commissioned in February 1945. She sailed from the West Coast in April with passengers and cargo for Espiritu Santo, Tulagi, and Noumea. Arriving in Australia in May, she reloaded and proceeded to the Philippines. Until the end of the war, she carried men and equipment of construction battalions from Manus and New Guinea.
Dawson loaded occupation troops at Pearl Harbor in late August 1945 and delivered them to Sasebo, Japan, in September. She then carried out a "Magic Carpet" voyage, returning to San Francisco in November with Army Air Corps personnel from Saipan. In December she began another voyage to the Western Pacific carrying sailors to Guam. Returning to San Francisco in January 1946, she commenced preparations to serve as a target for the Bikini atomic bomb tests. She survived both tests in July but was contaminated with radiation. Towed to Kwajalein for study, she was decommissioned in August 1946. Dawson was sunk by gunfire by USS Helena (CA-75) off Kwajalein in April 1948.
This page features our only view of USS Dawson (APA-79).
Click on the small photograph to prompt a larger view of the same image.
Photo #: NH 98716

USS Dawson (APA-79)

In San Francisco Bay, California, in late 1945 or early 1946.

Donation of Boatswain's Mate First Class Robert G. Tippins, USN (Retired), 2003.

U.S. Naval Historical Center Photograph.

Online Image: 58KB; 740 x 545 pixels

Return to Naval Historical Center home page.
Page made 18 September 2003