Return to Naval Historical Center home page.
Return to Online Library listing
DEPARTMENT OF THE NAVY -- NAVAL HISTORICAL CENTER
901 M STREET SE -- WASHINGTON NAVY YARD
WASHINGTON DC 20374-5060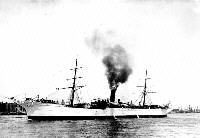 Online Library of Selected Images:
-- U.S. NAVY SHIPS --
USS Glacier (1898-1922, later AF-4), briefly named Delmonico in 1898
USS Glacier, a 8325-ton storeship, was built in 1891 in England as the merchant ship Port Chalmers. Purchased by the Navy during the Spanish-American War, she was briefly named USS Delmonico before receiving the name Glacier. She carried supplies to U.S. ships operating in the West Endies at the end of the 1898 war, opening a long career of supporting the Navy with fresh provisions and other stores.
In 1907-08, Glacier accompanied the "Great White Fleet" on the first half of its cruise around the World. During World War I, she transported cargo to American forces in South America and in Europe, and continued her activities into the postwar era. The old ship was finally decommissioned in March 1922 and sold the following August.
This page features a selected view of USS Glacier.
If higher resolution reproductions than these digital images are desired, see "How to Obtain Photographic Reproductions."
Click on the small photograph to prompt a larger view of the same image.
Photo #: NH 53740

USS Glacier (1898-1922)

Photographed circa the early 1900s.

U.S. Naval Historical Center Photograph.

Online Image: 48,183 bytes; 740 x 545 pixels
Return to Naval Historical Center home page.
24 September 1998