Return to Naval Historical Center home page.

Return to Online Library listing

DEPARTMENT OF THE NAVY -- NAVAL HISTORICAL CENTER
805 KIDDER BREESE SE -- WASHINGTON NAVY YARD
WASHINGTON DC 20374-5060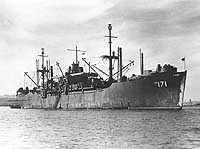 Online Library of Selected Images:
-- U.S. NAVY SHIPS --
USS Granville (APA-171), 1944-1973
USS Granville, a 12,450-ton Haskell class attack transport built at Portland, Oregon, was commissioned in November 1944. She carried passengers to the central Pacific during the first few months of 1945 and, in April and May, transported Soldiers to Okinawa. Having completing that mission, she brought casualties back to the U.S. from the western Pacific combat zone and made another trip to Okinawa before Japan agreed to surrender in mid-August. For the next two months Granville supported the occupation of Japan. She was employed on Operation "Magic Carpet", the great effort to return service personnel from the Pacific to the U.S., from October 1945 until January 1946. After steaming to the East Coast by way of the Panama Canal, USS Granville was decommissioned in May 1946 and transferred to the U.S. Maritime Commission. She spent the better part of three decades laid up in the James River, Virginia, as part of the National Defense Reserve Fleet, and was sold for scrapping in 1973.
This page features our only view of USS Granville (APA-171).
Click on the small photograph to prompt a larger view of the same image.
Photo #: NH 83482

USS Granville (APA-171)

Photographed circa 1945-1946, probably in San Francisco Bay, California.

Courtesy of Donald M. McPherson, 1975.

U.S. Naval Historical Center Photograph.

Online Image: 97KB; 740 x 575 pixels

Return to Naval Historical Center home page.
Page made 23 November 2002
Text updated 23 November 2003