Return to Naval Historical Center home page.

Return to Online Library listing


DEPARTMENT OF THE NAVY -- NAVAL HISTORICAL CENTER
805 KIDDER BREESE SE -- WASHINGTON NAVY YARD
WASHINGTON DC 20374-5060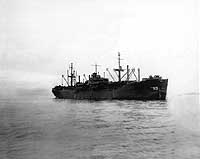 Online Library of Selected Images:
-- U.S. NAVY SHIPS --
USS Highlands (APA-119), 1944-1973
USS Highlands, a 6873-ton Haskell class attack transport built to a modified Victory ship design, was constructed at Wilmington, California. Commissioned in October 1944, she went to Hawaii the following month for amphibious warfare training. In February 1945 Highlands took part in the assault on Iwo Jima, then carried casualties to Saipan. Continuing on to the south Pacific, she loaded troops that were put ashore on Tsugen Jima and eastern Okinawa in April. For the remainder of the Pacific War Highlands was at Saipan, Ulithi, Guam and Leyte, spending June, July and August in the southern Philippine Islands preparing for the planned invasion of Japan.
After the enemy's mid-August capitulation Highlands carried occupation troops to Tokyo Bay, arriving there on 2 September, the day that Japan formally surrendered. She brought more forces to Japan in early October before carrying veterans home to the United States and made a further trans-Pacific round-trip voyage in November and December. In January 1946 the transport steamed to the East Coast, where she was decommissioned in mid-February and turned over to the Maritime Commission for inclusion in its James River, Virginia, reserve fleet. Following nearly three decades of inactivity Highlands was sold for scrapping in April 1973.
This page features our only view of USS Highlands (APA-119).
Click on the small photograph to prompt a larger view of the same image.
Photo #: NH 98837

USS Highlands (APA-119)

In the Pacific, circa 1945 or early 1946.

Donation of William Harold Milligan, 2003, in memory of his father, Harold Rutial Milligan, who served in USS Highlands during World War II.

U.S. Naval Historical Center Photograph.

Online Image: 62KB; 740 x 615 pixels

Return to Naval Historical Center home page.
Page made 24 September 2003