Return to Naval Historical Center home page.

Return to Online Library listing


DEPARTMENT OF THE NAVY -- NAVAL HISTORICAL CENTER
805 KIDDER BREESE SE -- WASHINGTON NAVY YARD
WASHINGTON DC 20374-5060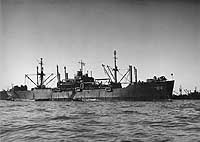 Online Library of Selected Images:
-- U.S. NAVY SHIPS --
USS Hinsdale (APA-120), 1944-1974

USS Hinsdale, one of 117 attack transports of the 6,873-ton Haskell-class, was built to a modified Victory ship design at Portland, Oregon, and was commissioned in October 1944. After shakedown training, she arrived at Pearl Harbor in December. There she embarked Marines and participated in a month of training before sailing in January 1945 to join the Iwo Jima invasion force at Saipan. She participated in the initial landings at Iwo Jima in February and remained off the beachhead for over a week, putting troops and supplies ashore and acting as an auxiliary hospital ship for casualties. She delivered casualties to Guam in March and then returned to Saipan to join the force preparing for the Okinawa invasion.
While Hinsdale was approaching the beachhead during the inital assault on Okinawa, a suicide plane crashed into her port side just above the waterline, destroying her engine room and killing all but one of the men on watch there. While fighting the damage, Hinsdale put her Marines ashore. She was then towed by the rescue tug USS ATR-80 to Kerama Retto, where she transferred the equipment and stores for her Marines to USS Pitt (APA-223). After serving as a receiving ship for survivors of other Kamikaze attacks, Hinsdale was towed by USS Leo (AKA-6) in a slow convoy to Ulithi. After a month of intensive repair work there by USS Vulcan (AR-5), Hinsdale sailed for the United States. She arrived at the Brooklyn Navy Yard in July and received a complete overhaul.
Hinsdale departed Brooklyn in November and carried out one "Magic Carpet" voyage, returning over a thousand troops from Japan to San Francisco in late January 1946. She sailed for the East Coast in February 1946. She was decommissioned and returned to the Maritime Commission in April 1946, stricken from the Navy List in May, and placed in the Maritime Commission's reserve fleet. She was sold for scrapping in 1974.
This page features our only view of USS Hinsdale (APA-120).
Click on the small photograph to prompt a larger view of the same image.
Photo #: NH 98729

USS Hinsdale (APA-120)

In San Francisco Bay, California, in late 1945 or early 1946.

Donation of Boatswain's Mate First Class Robert G. Tippins, USN (Retired), 2003.

U.S. Naval Historical Center Photograph.

Online Image: 71KB; 740 x 550 pixels

Return to Naval Historical Center home page.
Page made 23 October 2003