Return to Naval Historical Center home page.

Return to Online Library listing

DEPARTMENT OF THE NAVY -- NAVAL HISTORICAL CENTER
805 KIDDER BREESE SE -- WASHINGTON NAVY YARD
WASHINGTON DC 20374-5060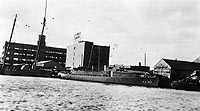 Online Library of Selected Images:
-- U.S. NAVY SHIPS --
USS Hiawatha (SP-183), 1917-1920
USS Hiawatha, an 89-ton steam patrol vessel, was built as the private yacht Donaire at Boston, Massachusetts, in 1914. The Navy obtained her from her owner and commissioned her in May 1917. Through the First World War Hiawatha operated as a patrol and dispatch boat in the vicinity of Hampton Roads, Virginia. Inactive after the conflict's end, she was loaned to the State of Maryland in late 1919 and early 1920. In October 1920, Hiawatha was sold to the U.S. Forest Service and taken to Alaska for further use.
This page features our only view of USS Hiawatha (SP-183).
Click on the small photograph to prompt a larger view of the same image.
Photo #: NH 101791

USS Hiawatha (SP-183)

Probably photographed in the Norfolk, Virginia, area in 1917-18.
USS Inca (SP-1212) is at left, wearing the Naval Aviation star insignia.
The Wallace Brothers gasoline engine machine shop is at right.

The original print is in National Archives' Record Group 19-LCM.

U.S. Naval Historical Center Photograph.

Online Image: 62KB; 740 x 435 pixels

Return to Naval Historical Center home page.
Page made 15 March 2001