Return to Naval History and Heritage Command home page.

Return to Online Library listing


DEPARTMENT OF THE NAVY -- NAVAL HISTORY AND HERITAGE COMMAND
805 KIDDER BREESE SE -- WASHINGTON NAVY YARD
WASHINGTON DC 20374-5060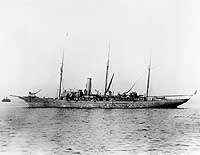 Online Library of Selected Images:
-- U.S. NAVY SHIPS --
USS Harvard (SP-209), 1917-1919
USS Harvard, an 804-ton yacht, was leased for World War I service in April 1917 under the name Wacouta. The Navy renamed her Harvard and commissioned her the following month. She arrived in Brest, France, in early July and thereafter operated out of that port on patrol and convoy escort service. During 1917-18, she provided assistance to one torpedoed merchant ship and rescued survivors of others. Following service in English waters beginning in November 1918 and a trip into the Baltic Sea some months later, Harvard came back to the United States in June 1919. She was decommissioned and returned to her owner in July.
This page features, and provides links to, all the views we have of USS Harvard (SP-209).
For other images related to this ship, see:

Wacouta (Steam Yacht, 1894).




Click on the small photograph to prompt a larger view of the same image.
Photo #: NH 101778

USS Harvard (SP-209)

Photographed during World War I by Edwin Levick, New York.
Built in 1894 by Bath Iron Works as Eleanor and later renamed Wacouta, this steam yacht was acquired by the Navy on 28 April 1917 and commissioned on 10 May 1917. She was returned to her owner on 26 July 1919.

The original print is in National Archives' Record Group 19-LCM.

U.S. Naval History and Heritage Command Photograph.

Online Image: 66KB; 740 x 600 pixels

Photo #: NH 85734

USS Corsair (SP-159)

Fine screen halftone reproduction of a photograph taken while she was fitting out for World War I service, circa May 1917.
Next ship outboard is USS Harvard (SP-209).

Courtesy of Alfred Cellier, 1977.

U.S. Naval History and Heritage Command Photograph.

Online Image: 50KB; 470 x 765 pixels
Another image of USS Harvard (SP-209):

In December 2008 an Internet auction sold a photograph of USS Harvard, showing her at Danzig, Germany sometime in 1919. Since we have no usage rights to this image, we can not provide reproductions of it. We also do not know where the original photo is located or where reproducible copies can be obtained. However, the following description of the ship, as seen in this picture, may be of value to the Online Library's patrons:

Harvard is tied up to a wharf in the photograph, which shows her partially, from somewhat forward of her foremast to just aft of her after mast. She is seen from off the port side, forward, with the camera looking aft and to starboard. Several men and boys are standing on the wharf and on board the ship. At the bottom of the photo, somewhat to the right of center, is printed (in Germanic script): "Aus Danzig".

The ship has only two masts, that originally located amidships having been removed. She is painted a medium grey overall (with the paint looking rather fresh and clean). The top three or so feet of her smokestack is painted black. A gun, partially shrouded in canvas, is mounted on her port side, immediately forward of the foremast. The ship's pilothouse appears to have been somewhat updated from its earlier appearance, with wind deflectors installed across the pilothouse face, signal flag "bags" installed on the railings around the pilothouse top and a large signal lamp (or perhaps a searchlight) mounted atop the port side of those railings. A boat is carried on cradles atop the deckhouse, alongside the smokestack. Davits at each end of the boat extend down to the main deck edge. A large United States Ensign is flying from the after mast gaff.




For other images related to this ship, see:


Wacouta (Steam Yacht, 1894).




NOTES:


To the best of our knowledge, the pictures referenced here are all in the Public Domain, and can therefore be freely downloaded and used for any purpose.


Some images linked from this page bear obsolete credit lines citing the organization name: "Naval Historical Center". Effective 1 December 2008 the name should be cited as: "Naval History and Heritage Command".







Return to Naval History and Heritage Command home page.
Page made 10 February 2001
New information added and coding updated 4 January 2009