Return to Naval Historical Center home page.

Return to Online Library listing

DEPARTMENT OF THE NAVY -- NAVAL HISTORICAL CENTER
805 KIDDER BREESE SE -- WASHINGTON NAVY YARD
WASHINGTON DC 20374-5060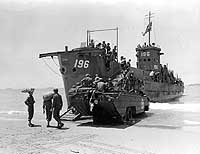 Online Library of Selected Images:
-- U.S. NAVY SHIPS --
USS LCI(L)-196 (1943-1947),
later LCI(G)-196
USS LCI(L)-196, a 246-ton landing craft, infantry, was built by the Federal Shipbuilding and Drydock Company and commissioned in February 1943. She served in the Mediterranean Sea during 1943-44, participating in the invasions of Sicily, Salerno, Anzio, Elba and Southern France. Modified for gunfire support of amphibious operations and renamed LCI(G)-196 in July 1945, she took part in occupation service in the western Pacific and China areas during the last months of 1945. Decommissioned after that duty, LCI(G)-196 was transferred to the Maritime Commission for disposal in November 1947.
This page features our only view of USS LCI(L)-196.
Click on the small photograph to prompt a larger view of the same image.
Photo #: NH 97260

Sicily Invasion, July 1943

Soldiers loading bags and other items from a DUKW to USS LCI(L)-196, in the Scoglitti area, 11 July 1943.
Taken by a photographer from USS Ancon (AGC-4).

Official U.S. Navy Photograph, from the collections of the Naval Historical Center.

Online Image: 96KB; 740 x 595 pixels

Return to Naval Historical Center home page.
25 February 2000