Return to Naval Historical Center home page.

Return to Online Library listing

DEPARTMENT OF THE NAVY -- NAVAL HISTORICAL CENTER
805 KIDDER BREESE SE -- WASHINGTON NAVY YARD
WASHINGTON DC 20374-5060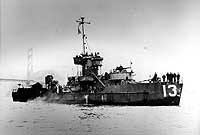 Online Library of Selected Images:
-- U.S. NAVY SHIPS --
USS LCS(L)(3)-13 (1944-1953).
Renamed LSSL-13 in 1949
USS LCS(L)(3)-13, a 387-ton support landing craft, was built in at Newponset, Massachusetts, and commissioned in September 1944. She served in the Pacific during 1944-45 and was placed out of commission in June 1946. Reclassified LSSL-13 in 1949, she was reactivated in 1952 and loaned to Japan in June 1953. Under the name Oniyuri, she served in the Japanese Maritime Self-Defense Force until June 1958, when she was returned to U.S. custody. She was disposed of as a target in the western Pacific in February 1959.
This page features our only view of USS LCS(L)(3)-13.
Click on the small photograph to prompt a larger view of the same image.
Photo #: NH 85170

USS LCS(L)(3)-13

In San Francisco Bay, California, soon after the end of World War II. The Golden Gate bridge is in the left background.

Courtesy of William H. Davis, 1977.

U.S. Naval Historical Center Photograph.

Online Image: 62KB; 740 x 525 pixels

Return to Naval Historical Center home page.
23 January 2000